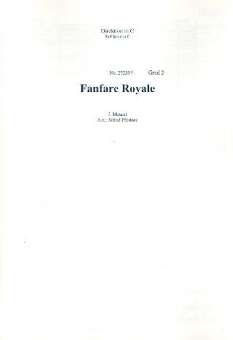 Fanfare Royale
Jean-Joseph Mouret / Arr. Alfred Pfortner
Gelbe Reihe - Leichte Ausgaben für Schulorchester
Most of the pieces have been abridged and adapted to suit young orchestras.
There are 2 Scores available: The first one is sounding, the second one is transposed.
The piano part can be used to support or substitute. Piano parts can be played by the Teacher or an advanced Student.
All pieces are playable in smaller groups.
String Parts are shown with bowings and partially with fingerrings.
All parts for violin and viola remain in 1st position.
Also for woodwind and brass instruments special attention has been paid to a suitable range of tones for students.
For wind instruments in Bb and Eb accidentals were put directly before the various notes. Fingerings for trumpets and horns and positions for trombone simplify the performance of the players.
For most of the pieces instruments can be varied or replaced (ad libitum) for instance: Recorder, Guitar, Keyboard, Drum and Timpani.
The style of the pieces ranges from classic to contemporary music.
Besetzungsliste / Instrumentation:
1 x Partitur in C
1 x Partitur transponiert
4 x 1. Violine
4 x 2. Violine
2 x 3. Violine (=Viola)
2 x Viola

2 x Cello
1 x Bass
1 x Klavier
1 x Blockflöte
1 x 1. Flöte
1 x 2. Flöte (Oboe)

1 x 1. Klarinette in B
1 x 2. Klarinette in B
1 x Fagott
1 x Es-Alt-Saxophon
1 x B-Tenor-Saxophon
1 x Horn in F

1 x 1. Trompete in B
1 x 2. Trompete in B
1 x Posaune
1 x Keyboard
1 x Gitarre
1 x Schlagzeug
Dieses Produkt könnte Sie auch interessieren / This Product might be interesting for you:
Variety

Availability *
in stock | delivery time 1-2 days


Product information
Order id: 390460
Difficulty: 2
Duration: 2:50 min
Pages: -
publisher id: SIEB 27233
EAN: 9783964185242
---
Demos
---
Other Customers were interested in
* Information on availability is based on previous experiences. Prices and availability are subject to change without notice!