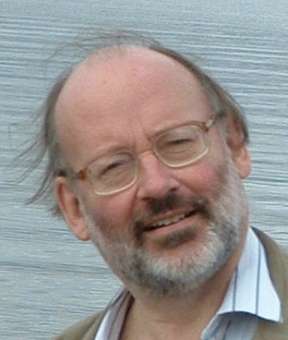 John Glenesk Mortimer
composer / arranger
date of birth: 11.05.1951

John Glenesk Mortimer ( Edinburgh , 11 May 1951 ) is a Scottish composer , arranger , music educator and viola player . He mainly uses a number of pseudonyms for arrangements such as: Scott Richards , Peter King , Joe Bellini , Gordon Macduff , David Andrews , Jan Sedlak , Julian Oliver and Eduardo Suba .
Mortimer came into contact with music in his early years and started writing simple compositions at the age of 10. He was educated at George Watson's College. At the age of 16 he wrote his first full-length opera, Crime and Punishment , on a libretto based on Fyodor Dostoevsky 's novel Crime and Punishment . He won the Douglas Grant composition prize as well as the George Watson's prize and scholarship . He studied composition with Humphrey Searle and Anthony Milner , viola with John Dyer and orchestral conducting withHarvey Phillips from 1969 at the Royal College of Music in London ; at the same time he studied at the University of London .

From 1972 to 1979 he was a viola player with the Royal Ballet Orchestra , Zurich Chamber Orchestra , CBS Symphony Orchestra , London Symphony Orchestra , Netherlands Ballet Orchestra and Symphonieorchester Biel . In 1976 he left for Switzerland and became a music teacher in secondary education in Basel for 4 years . In 1983 he became a teacher for solfège , orchestral conducting , composition, arrangement and chamber music at the Conservatoire de musique de Neuchâtel in La Chaux-de-Fonds andNeuchâtel . During this time he was also conductor of the conservatory orchestra and the choir of this institution. He also conducted several amateur associations such as the Orchester de chambre jurassien (1979-1994) and the Choeur Vivaldi in Delémont (1983-1993).

In 1984 he decided to focus on his work as a composer and arranger and at the same time resigned as a teacher at the conservatory. In 1997 he also went back to Edinburgh. As a composer he wrote for many genres.