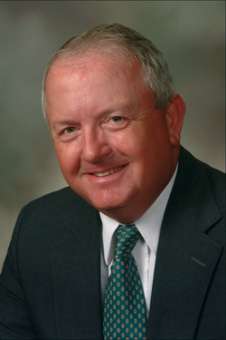 James Barnes
composer / arranger
date of birth: 09.09.1949

As a member of both the Band and Theory-Composition faculties at the University of Kansas, James Barnes teaches orchestration and composition courses and conducts the Wind Ensemble and the Concert Band.
His numerous publications for concert band and orchestra are extensively performed in the United States, Europe and the Pacific
Basin. His works have been performed at Tanglewood, Boston Symphony Hall, Lincoln Center, Carnegie Hall and the Kennedy
Center in Washington, DC.
Barnes twice received the coveted American Bandmasters Association Ostwald Award for outstanding contemporary wind band music. He has been the recipient of numerous ASCAP Awards for composers of serious music, the Kappa Kappa Psi Distinguished Service to Music Medal and the Bohumil Makovsky Award for Outstanding College Band Conductors, along with numerous other honors and grants. The world famous Tokyo Kosei Wind Orchestra has recorded three CD's of his music. Mr. Barnes recently completed a new CD of his works with the Koninklijke Militaire Kapel (The Queen's Royal Military Band) in Holland. In recent years, he has been commissioned to compose works for all five of the major military bands in Washington, DC. A recent CD by the United States Air Force Band features his Third Symphony.
Mr. Barnes has traveled extensively as a guest composer, conductor and lecturer throughout the United States, Europe, Australia, Japan and Taiwan. He is a member of the American Bandmasters Association and numerous other professional organizations and societies. Since 1984, his music has been published exclusively by Southern Music Company of San Antonio, Texas.