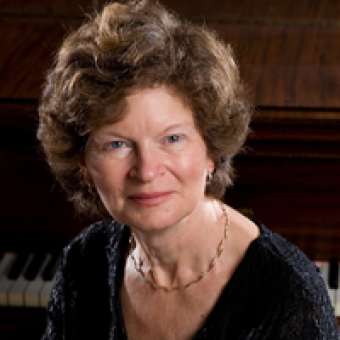 Catherine McMichael
composer / arranger
Catherine McMichael is a pianist, arranger, composer and publisher of a wide variety of choral music, chamber music and Suzuki-related material. Teaching, performing and composing comprise her professional musical life in Saginaw, Michigan. Her studio includes students of all ages and levels, from beginner to college music major to adult enthusiast. She performs frequently with the Saginaw Choral Society and the Saginaw Bay Symphony Orchestra, which recently premiered The Navigator, commissioned from her as a salute to the new century. Public and critical acclaim was so enthusiastic that it was performed again on the season finale.

Catherine's commitment to making chamber and ensemble music available to the young musician has led her to compose and publish music for piano and strings, flute and harp, brass choir, piano duet, and chorus, many of which appear on the National Federation of Music Teachers' recommended repertoire list. Two of her works for flute have won the Best Newly Published Music award from the National Flute Association (Floris and La Lune et les Etoiles). She's the author of a piano method, Making Music My Own, supplementary repertoire and duets, published in 1994-1995 by Lorenz Corp./Heritage Press of Dayton, Ohio.

Her composition projects in the past three years include commissions from such diverse groups as the Saginaw Bay Orchestra (full orchestra), Ithaca Talent Education (for string orchestra), The Canadian Brass (brass quintet), University of Massachusetts at Amherst (chorus, saxophone and piano; and tenor, saxophone and piano), Chautauqua Institution (for a string orchestra festival in October, 2000), New England Conservatory, Thayer College and Delta Flute Choir (flute choir), Marshall M. Fredericks Sculpture Gallery (double choir, woodwind quintet and orchestra), , and First Presbyterian Church in Saginaw (choir and organ). Catherine is available for commissions on any instrument or voice.

An alumna of the University of Michigan (B.M. piano performance, M.M. chamber music and accompanying), she also directs the handbell choir at First United Methodist Church in Saginaw, is on the faculty of Saginaw Valley State University, and is a clinician at workshops and institutes in North America and Australia.