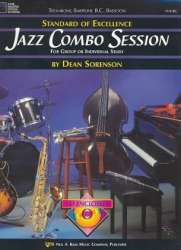 Finally, a flexible collection of pieces that cut to the core of the jazz experience - playing in a combo! Standard of Excellence Jazz Combo Session is a collection of compositions that can be played in a wide variety of 'combo' settings, with any combination of instruments. Includes parts for all woodwind, brass, and string instruments in addition to guitar, piano, bass, drum ...
Duration: --:-- min
Difficulty: 1
Article Nr: 89831
in stock | delivery time 1-2 days
*


* Information on availability is based on previous experiences. Prices and availability are subject to change without notice!