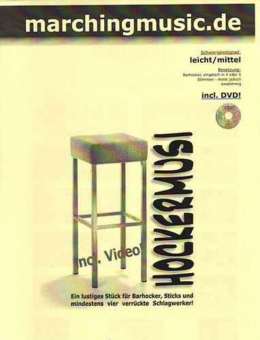 Hockermusi' - Buch + DVD
Timm Pieper
Alles was man braucht sind vier verrückte Musiker, Sticks und ein paar Barhocker. Die Hockermusi´ ist ein weitestgehend einstimmiges Stück, welches komplett auf Barhockern gespielt werden kann (nur einzelne Stellen sind vierstimmig). Durch viele optische Effekte und interessante Themen ist der Erfolg beim Publikum eine klare Sache.
Mitgeliefert werden eine DVD mit einem Video der Uraufführung des Stückes sowie gründliche Erklärungen, wie die einzelnen Tricks und Effekte funktionieren.
Availability *
available in 13 days


Product information
Order id: 56613
Difficulty: 2+
Duration: 4:43 min
Pages: -
publisher id: 153-042
EAN: 4025511008198
---
Demos
---
Other Customers were interested in
* Information on availability is based on previous experiences. Prices and availability are subject to change without notice!