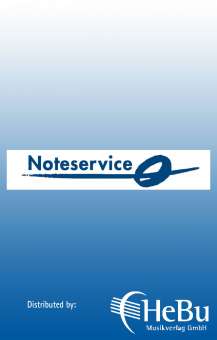 Bønder i Byen (Fra "Småbyskisser") (Country-Folk in Town (From "Village Sketches")
Sverre Bergh / Arr. Idar Torskangerpoll
Concert Band Entertainment
Sverre Bergh (1915-1980) was a central character in the music scene in Bergen, both as a musical leader at Den Nationale Scene (theatre) and as a director for the Festspillene music festival. He was an arranger and pianist for the Norwegian Broadcasting Company (NRK), and wrote stage- and film scores as well as piano pieces.
Country-Folk in Town is one movement from Village Sketches. This small overture was written for the Bergen Philharmonic Orchestra.
&ZEICHEN(10)Sverre Bergh (1915-1980) var en sentral skikkelse i Bergens musikkliv, og var bl.a. kapellmester ved Den Nationale Scene og direktør for Festspillene.
Han var musikkarrangør og pianist i NRK, og skrev scene- og filmmusikk og klaverstykker.
«Bønder i byen» er en av satsene fra Småbyskisser Den lille overtyren ble skrevet til Musikselskapet Harmoniens Orkester i Bergen.
Availability *
in stock | delivery time 1-2 days


Product information
Order id: 173345
Difficulty: 3+
Duration: 3:10 min
Pages: -
publisher id: NOR 9790261710374
EAN: 00173345
---
Demos
---
Other Customers were interested in
* Information on availability is based on previous experiences. Prices and availability are subject to change without notice!