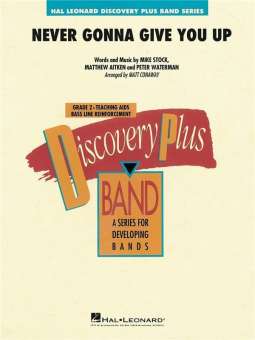 Never Gonna Give You Up
Stock / Aitken / Waterman / Arr. Matt Conaway
Titel / Title: Never Gonna Give You Up
Herausgeber / Publisher: Hal Leonard
Instrumentation: Concert Band/Harmonie
Produkttyp / Product: Partitur + Stimmen
Serie / Series: Discovery Plus Concert Band
Alternative Artikelnummer / Alternative Product Code: HL04007364
Sprache / Language: English
Erscheinungsdatum / Date of Production: 2022
Genre: Pop und Rock
UPC: 196288015536
Recorded by Rick Astley in 1987, this familiar rock hit has remained popular due in part to its prank value! Whether you choose to Rick-Roll your audience or just play it for fun, this is guaranteed to bring a smile.
Availability *
available in 17 days


Product information
Order id: 207684
Difficulty: 2
Duration: 2:48 min
Pages: -
publisher id: HL 04007364
EAN: 196288015536
---
Demos
---
Other Customers were interested in
* Information on availability is based on previous experiences. Prices and availability are subject to change without notice!