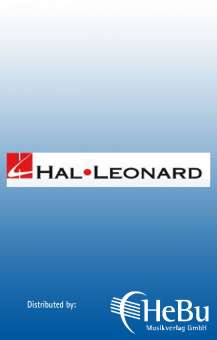 Hal Leonard Publishing Co.
publisher
In the late 1930s in Winona, Minnesota, the late Harold "Hal" Edstrom, his brother Everett "Leonard" Edstrom and their friend Roger Busdicker had formed a very popular dance band. Concerned that their conservative father wouldn't approve of using the family name for a band, Harold and Ev took parts of their names and called the band Hal Leonard. As leader of the Hal Leonard Band, Ev eventually became known as "Hal Leonard."
The company Hal Leonard was founded in 1947, after the Hal Leonard Band broke up. At the time, Ev started a music store using the Hal Leonard name while Roger and Harold were both directing award-winning high school bands in Winona. In those days, most school bands played serious literature, but Harold and Roger had the unique ability (because of their professional experience) to arrange "popular" music for school bands. Soon band directors across the US wanted their arrangements. They started to mimeograph copies and sell them. They realized that to successfully (and legally!) launch a new publishing company, they needed to license songs, so they ventured to New York's Tin Pan Alley in search of copyrights. What they got on their trip was an education in publishing and the rights to "I Wonder Who's Kissing Her Now," one of the most popular songs of the day. Eventually, many music publishers in New York were licensing Hal Leonard to do school band arrangements of their songs. Thus began their publishing business and an entirely new industry.
The company grew and soon choral arrangements and a wider variety of band arrangements were added to their catalog of publications. In the early 1950s, the home organ industry began to grow rapidly That is when Hal Leonard published The Pointer System for organ, which eventually became the best-selling organ instruction method ever created. That method soon led to the first organ "benchpack," which featured instruction books and songbooks packaged in the bench of an organ. In the late 1950s, The Pointer Systems for Guitar and Piano were produced, introducing millions of beginners to instant playing success.
In the mid-1960s, Hal Leonard began marketing band and choral music to educators by sending recordings of arrangements through the mail. This unique promotion is now used by virtually every print music publisher in the industry.
In 1970, Keith Mardak and associates started a new division of Hal Leonard called Learning Unlimited, to create the first book/audio music instructional products. This division soon outgrew the company, and Mardak became general manager for the entire company. Shortly afterward, the Hal Leonard Guitar Method was launched, becoming one of the first methods to incorporate popular music. Today, this method is the leading guitar method in the world, having taught millions how to play guitar.
Hal Leonard continued to grow throughout the 1970s, and in 1980 made the giant leap into popular music print publishing when it established a unique and very close relationship with Chappell Music, the world's largest music publisher. Shortly thereafter, Hal Leonard increased its presence in virtually every music print market around the world. As a result, facilities in both Milwaukee and Winona were expanded to accommodate corporate growth.
In 1985, Hal Leonard was purchased from the original founders by an internal management team led by Keith Mardak, who then became president. Since then, it has experienced consistent, dramatic growth due to creative, innovative and aggressive publishing and marketing.
Today, Hal Leonard Corporation is the world's largest educational music publisher, with the #1 methods for learning guitar (the Hal Leonard Guitar Method), piano (the Faber Piano Method), and school music instruments (Essential Elements for Band and Strings), plus publications for learning virtually every instrument imaginable.
Hal Leonard is also the leading publisher of songbooks; Real Books and fake books; sheet music; band, orchestra and choral arrangements for schools; music reference publications; children's music products; educational magazines; and more. Many new titles are enhanced with supplemental audio and video files online for download and streaming.
The company leads the way in technology, developing eBooks, digital sheet music, apps and more. Hal Leonard operates many popular websites including SheetMusicDirect with thousands of songs arranged for different instruments available for download, and GuitarInstructor.com for online guitar lessons and tab.
In 2014, Hal Leonard made a substantial investment in Noteflight, LLC, an innovative music technology company dedicated to reinventing the way people create, share and use digital sheet music. This online community allows users to edit, display, play back and share music notation in a cloud-based web browser, on any device. Noteflight has an active subscriber base of nearly 1.5 million music enthusiasts and educators.
In its catalog of more than 200,000 available titles, Hal Leonard represents many of the world's best known and most respected publishers, artists, songwriters, arrangers and musical instrument manufacturers. Its products are sold in more than 65 countries throughout the world through Hal Leonard offices and a large network of distributors. Domestically, the company markets to more than 7,500 music stores in the United States and Canada through a team of 50 in-house sales representatives.
Hal Leonard operates out of two main facilities — its corporate headquarters in Milwaukee, Wisconsin and a state-of-the-art administration, production and distribution facility in Winona, Minnesota. The company also has editorial offices in New Jersey and Boston, and offices abroad in Australia, Belgium, China, Germany, Holland, Italy, Switzerland and the United Kingdom.
Chairman Keith Mardak, President Larry Morton, and the more than 500 talented Hal Leonard employees around the world remain dedicated to providing the very best in music products and services.