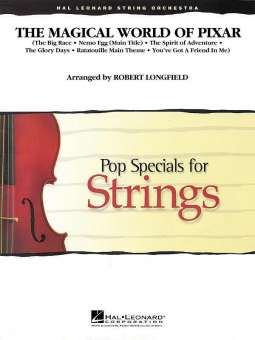 The Magical World of Pixar
Robert Longfield
Titel / Title: The Magical World of Pixar
Herausgeber / Publisher: Hal Leonard
Instrumentation: Streichensemble
Produkttyp / Product: Partitur + Stimmen
Serie / Series: Pop Specials for Strings
Produkttyp / Product: Partitur + Stimmen
UPC: 884088530242
|The unmatched creativity of Pixar Studios continues with blockbuster films that have become entertainment icons of our time. Each has a memorable musical score, several of which are combined into this terrific showcase for string orchestra.||Includes: The Big Race (Cars), Nemo Egg (Finding Nemo), The Spirit of Adventure (Up), The Glory Days (The Incredibiles), Ratatouille (Main Theme), and You've Got a Friend in Me (Toy Story).
Availability *
available in 10 days


Product information
Order id: 4478
Difficulty: 3+
Duration: --:-- min
Pages: -
publisher id: HL 04626453
EAN: 9990093059683
---
Demos
* Information on availability is based on previous experiences. Prices and availability are subject to change without notice!