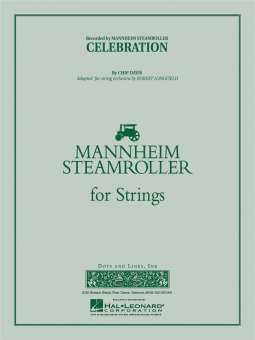 Celebration (Mannheim Steamroller)
Robert Longfield
Titel / Title: Celebration (Mannheim Steamroller)
Herausgeber / Publisher: Mannheim Steamroller
Instrumentation: Streichensemble
Produkttyp / Product: Partitur + Stimmen
Serie / Series: Pop Specials for Strings
Produkttyp / Product: Partitur + Stimmen
UPC: 884088534288
|The leadoff tune from the Mannheim Steamroller CD Christmas Celebration is the perfect opener for any winter or holiday concert. The beginning fanfare gives way to a driving Mannheim groove, combining original themes with quotes from Deck the Halls, Hallelujah Chorus and Joy to the World. Festive and powerful!
Availability *
available in 10 days


Product information
Order id: 4475
Difficulty: 3+
Duration: --:-- min
Pages: -
publisher id: HL 04626461
EAN: 9990093202898
---
Demos
* Information on availability is based on previous experiences. Prices and availability are subject to change without notice!