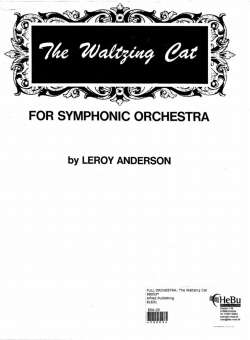 The Waltzing Cat (FULL ORCHESTRA)
Leroy Anderson
Sinfonieorchester

Vergriffen (Restexemplare bei uns noch lieferbar!) / Permanently out of Print (we still sell our remaining stock)
In typical Leroy Anderson style, listen for the feline saunter and strut in The Waltzing Cat. Join the musical humor with your percussionists when you hear a dog bark interrupt the cat's waltzing swagger. Bring this classic Anderson gem to your band today!
Availability *
available in 9 days


Product information
Order id: 98003
Difficulty: 3+
Duration: 2:47 min
Pages: -
publisher id: 00-81631
EAN: 029156616668
---
Demos
---
Other Customers were interested in
* Information on availability is based on previous experiences. Prices and availability are subject to change without notice!