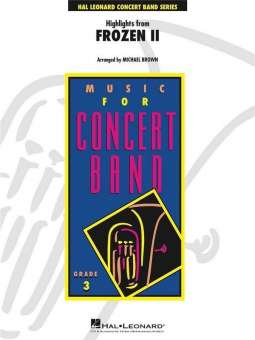 Highlights from Frozen II
Kristen Anderson-Lopez & Robert Lopez / Arr. Michael Brown
Titel / Title: Highlights from Frozen II
Herausgeber / Publisher: Hal Leonard
Instrumentation: Concert Band/Harmonie
Produkttyp / Product: Partitur + Stimmen
Serie / Series: Young Concert Band
Erscheinungsdatum / Date of Production: 2020
ISBN: 9781540085023
UPC: 840126908886

Series: Young Concert Band
The highly anticipated follow-up to the original Frozen movie features an equally powerful collection of songs. This marvelous concert setting includes the haunting Vuelie chant melody along with the songs All Is Found, Some Things Never Change, Into the Unknown, Lost in the Woods, and Show Yourself.
Availability *
available in 3 days


Product information
Order id: 186690
Difficulty: 3
Duration: 5:30 min
Pages: -
publisher id: HL 04006499
EAN: 840126908886
---
Demos
---
Other Customers were interested in
* Information on availability is based on previous experiences. Prices and availability are subject to change without notice!