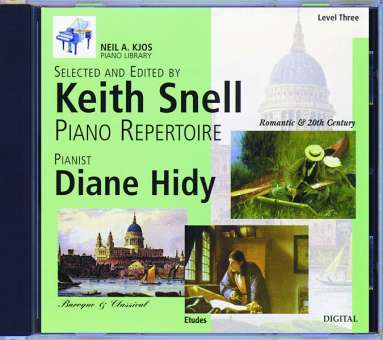 CD: Piano Repertoire - Level 3
Keith Snell
Thousands of teachers have enjoyed Keith Snell's economical Piano Repertoire series of classic repertoire books, Now, this noted editor has compiled his favorite repertoire of all time into two large volumes.
There are many reasons teachers, hobbyists and performers will find these volumes useful. Here are five:
1. Practical sources of repertoire favorites at multiple levels of difficulty by the major composers
2. For families with children at multiple levels of study
3. For students returning to piano study after a long break
4. For transfer students
5. For students overly concerned with What level am I?


Availability *
available in 5 days


Product information
Order id: 466480
Difficulty: -
Duration: --:-- min
Pages: -
publisher id: KJOS GP603CD
EAN: 9990092451105
---
Demos
* Information on availability is based on previous experiences. Prices and availability are subject to change without notice!
Rev. 4.118 - Time: 174 ms | SQL: -1 ms