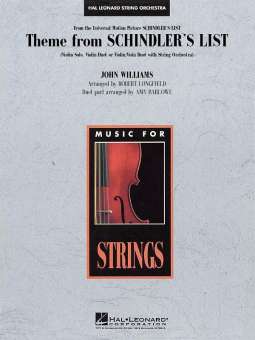 Theme from Schindler's List - for Violin Solo, Violin Duet, or Violin/Viola Duet
John Williams / Arr. Robert Longfield
Titel / Title: Theme From Schindler's List - for Violin Solo, Violin Duet, or Violin/Viola Duet
Herausgeber / Publisher: Hal Leonard
Instrumentation: Streichorchester
Produkttyp / Product: Partitur + Stimmen
Serie / Series: Music for String Orchestra
Produkttyp / Product: Partitur + Stimmen
UPC: 884088202866
This special edition of John Williams' eloquent theme is |arranged to feature a violin solo, violin duet, or a violin and |viola duet. Set in its original key, the solo part is the original |version as played by Ithzak Perlman, and accompanied by the |duet part and a rich string orchestra backdrop. A powerful |and dramatic program piece!
Availability *
available in 10 days


Product information
Order id: 3802
Difficulty: 3+
Duration: 3:45 min
Pages: -
publisher id: HL 04490728
EAN: 9990001468736
---
Demos
Attention: By clicking one of these hyperlinks you will leave our website.
We don't assume liability or warranty on the content of websites to which our site links directly or indirectly. Visitors follow links at their own risk.
---
Other Customers were interested in
* Information on availability is based on previous experiences. Prices and availability are subject to change without notice!