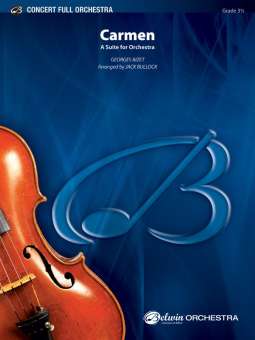 Carmen Suite (Full Orchestra)
Georges Bizet / Arr. Jack Bullock
Titel / Title: Carmen Suite
Herausgeber / Publisher: Alfred Music Publications Germany
Instrumentation: Orchestra
Produkttyp / Product: Partitur + Stimmen
Produkttyp / Product: Partitur + Stimmen
UPC: 29156994162
Georges Bizet is probably best known today for his opera Carmen. At its premiere, critics (and the audience) found the work unsatisfactory in both content and approach. However, the opera soon became a triumphant success and has since been staged regularly in opera houses throughout the world. This adaptation of the musical score for orchestra, a suite in four movements, retains the spirit of the original production. This is definitely an important new contribution to the repertoire for orchestra. * Movement 1 (1:09) * Movement 2 (1:39) * Movement 3 (1:35) * Movement 4 (2:29).
Variety

Availability *
available in 11 days


Product information
Order id: 16505
Difficulty: 3+
Duration: 7:00 min
Pages: 360
publisher id: 00-BFO9909
EAN: 029156994162
---
Demos
---
Other Customers were interested in
* Information on availability is based on previous experiences. Prices and availability are subject to change without notice!