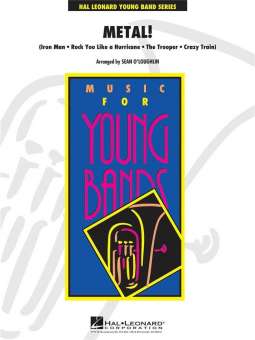 Metal!
Diverse / Arr. Sean O'Loughlin
Titel / Title: Metal!
Herausgeber / Publisher: Hal Leonard
Instrumentation: Concert Band/Harmonie
Produkttyp / Product: Partitur + Stimmen
Serie / Series: Young Concert Band
Produkttyp / Product: Partitur + Stimmen
Format: 9 X 12 INCH
Erscheinungsdatum / Date of Production: 2014
UPC: 884088963057
Who knew that vintage hard rock tunes would adapt so well for the concert stage! Sean O'Loughlin's experience working directly with some of the nation's top recording artists gives him a decided edge when it comes to making these timeless heavy metal hits sound great for band. Includes: Iron Man (Black Sabbath), Rock You Like a Hurricane (Scorpions), The Trooper (Iron Maiden) and Crazy Train (Ozzy Osbourne).|
Variety

Availability *
available in 5 days


Product information
Order id: 163321
Difficulty: 3
Duration: 5:50 min
Pages: -
publisher id: HL 04003750
EAN: 884088963057
---
Demos
---
Other Customers were interested in
* Information on availability is based on previous experiences. Prices and availability are subject to change without notice!