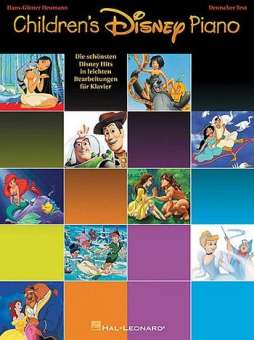 Children's Disney Piano: German Edition
Diverse / Arr. Hans-Günter Heumann
Children's Disney Piano contains a superb collection of Disney favourites arranged for easy Piano by Hans-Gunter Heumann. This is the German Edition with all lyrics and text in German.
Bella Notte (Susi Und Strolch)
Das Farbenspiel des Winds (Pocahontas)
Die Schöne und das Biest (Die Schöne und das Biest)
Dir gehört mein Herz (Tarzan)
Du hast 'n Freund in Mir (Toy Story)
Ein Löffelchen voll Zucker (Mary Poppins)
Ein Traum wird wahr (Aladdin)
Flieg ins Glück (Peter Pan)
Ich hab ihn im Traum gesehen (Cinderella)
Ich werd's noch beweisen (Hercules)
In Deiner Welt (Arielle, Die Meerjungfrau)
Kann es wirklich Liebe sein (Der König der Löwen)
Katzen brauchen furchtbar viel Musik (Aristocats)
Probier's Mal Mit Gemütlichkeit (Das Dschungelbuch)
Traum-Walzer (Dornröschen)
Availability *
available in 10 days


Product information
Order id: 631558
Difficulty: 2
Duration: --:-- min
Pages: -
publisher id: HL00311002
EAN: 9780634060175
---
Demos
* Information on availability is based on previous experiences. Prices and availability are subject to change without notice!