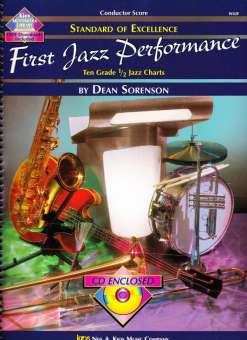 Standard of Excellence - First Jazz Performance - Score (Book and CD)
Dean Sorenson
SOE First Jazz Performance is modeled after the First Performance series by Bruce Pearson and Barrie Gott. It is a collection of ten grade ½ jazz charts, but with the addition of optional concert band instrumentation. This highly versatile and flexible book will encourage and support students in their first explorations of jazz style and performance, whether in a jazz ensemble or a concert band setting.
Availability *
in stock | delivery time 1-2 days


Product information
Order id: 466553
Difficulty: -
Duration: --:-- min
Pages: -
publisher id: KJOS W42F
EAN: 9780849756412
---
Demos
---
Other Customers were interested in
* Information on availability is based on previous experiences. Prices and availability are subject to change without notice!