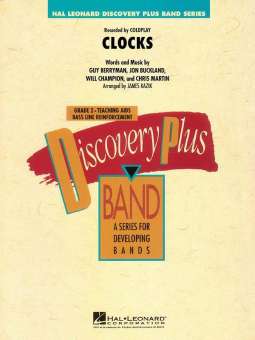 Clocks
Coldplay / Arr. James Kazik
Titel / Title: Clocks - Recorded by Coldplay
Herausgeber / Publisher: Hal Leonard
Instrumentation: Concert Band/Harmonie
Produkttyp / Product: Partitur + Stimmen
Serie / Series: Discovery Plus Concert Band
Produkttyp / Product: Partitur + Stimmen
Sprache / Language: English
Format: 9 X 12 INCH
Erscheinungsdatum / Date of Production: 2010
UPC: 884088542542

Discovery Plus Grade 2
Recorded by Coldplay, this enduring hit from 2003 represents some of the best elements of contemporary pop music - a catchy melody, well-constructed counterlines and harmonies, and an infectious groove. This arrangement by James Kazik effectively captures these elements from the original.
Variety

Availability *
available in 9 days


Product information
Order id: 154901
Difficulty: 2
Duration: 2:30 min
Pages: -
publisher id: HL 08725289
EAN: 884088542542
---
Demos
Attention: By clicking one of these hyperlinks you will leave our website.
We don't assume liability or warranty on the content of websites to which our site links directly or indirectly. Visitors follow links at their own risk.
---
Other Customers were interested in
* Information on availability is based on previous experiences. Prices and availability are subject to change without notice!