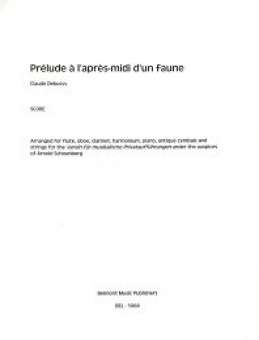 Prelude à l'après midi d'un faune - Score
Claude Achille Debussy / Arr. Benno Sachs
Benno Sachs' re-orchestration of Prélude à l'après-midi d'un faune retains many of the sounds of Debussy's original, using the span of the piano to fill out gaps in the texture, and the harmonium to sustain missing parts in the winds, additions which add much interest and afford a new coherence and sensuality to the melodic line.
Availability *
in stock | delivery time 1-2 days


Product information
Order id: 5139
Difficulty: 5
Duration: 10:00 min
Pages: -
publisher id: Bel-1068
EAN: 4025511112031
---
Demos
---
Other Customers were interested in
* Information on availability is based on previous experiences. Prices and availability are subject to change without notice!