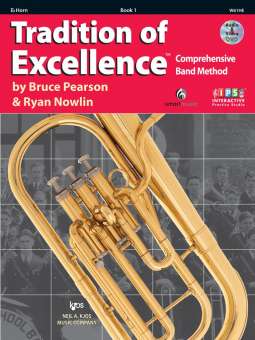 Tradition of Excellence Book 1 - Eb Horn
Bruce Pearson
Tradition of Excellence by Bruce Pearson and Ryan Nowlin is a comprehensive and innovative curriculum designed to appeal to today's students. The music; the dynamic look; the scope and sequence; the tools for differentiated instruction; the smooth pacing with careful review; and the included INTERACTIVE Practice Studio make Tradition of Excellence the fastest growing band method today!


Availability *
in stock | delivery time 1-2 days


Product information
Order id: 18019514
Difficulty: -
Duration: --:-- min
Pages: -
publisher id: KJOS W61HE
EAN: 9780849770623
---
Demos
Attention: By clicking one of these hyperlinks you will leave our website.
We don't assume liability or warranty on the content of websites to which our site links directly or indirectly. Visitors follow links at their own risk.
---
Other Customers were interested in
* Information on availability is based on previous experiences. Prices and availability are subject to change without notice!