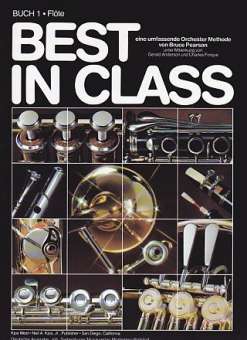 Best in Class Buch 1 - Deutsch - Flöte
Bruce Pearson
Siebenhüner 24601
Originalbestellnummer: KJOS W3GFL
Eine umfassende Orchester Methode

"Best in Class" ist eine hervorragende amerikanische Bläserschule in deutscher Sprache, für den Einzel- und Gruppenunterricht oder auch zum Aufbau eines ganzen Blasorchesters in Schule oder Verein. Niemals zuvor gab es eine bessere, frischere, ansprechendere und umfassendere Bläser- und zugleich Orchesterschule.

Die klare Gliederung der Best in Class-Schulen erleichtern den Unterricht. Spezielle Seiten und Übungen gehen auf die Besonderheiten der einzelnen Instrumente ein. Die Direktionsstimme enthält unzählige Hinweise zu den einzelnen Übungen, viele Kapitel über: Zähltechniken, Atmung, Zungenstoß, Ansatzentwicklung usw.

Die Hefte für Es-Alt-Klarinette, Bass-Klarinette, Posaune in B, Bass in Es, Bass in B sind nur in Englisch lieferbar.

Die Hefte für Kinder-C-Klarinette und F-Tuba ermöglichen es schon den kleinsten Schülern mitzuspielen.
Availability *
available in 2 days


Product information
Order id: 9800501
Difficulty: 2
Duration: --:-- min
Pages: -
publisher id: KJOS W3GFL
EAN: 4025511048507
---
Demos
---
Other Customers were interested in
* Information on availability is based on previous experiences. Prices and availability are subject to change without notice!