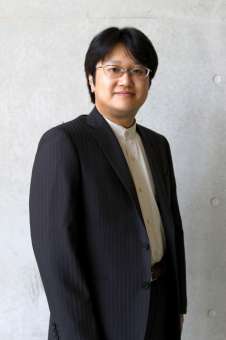 Satoshi Yagisawa
composer
date of birth: 03.04.1975

Satoshi Yagisawa
* 1975 in Tokio, Japan

Satoshi Yagisawa studierte an der Musashino Academia Musicae und graduierte dort. Dort belegte er auch die Master-Kurse und schloss sein Studium mit dem Master of Music ab. Danach war er für zwei Jahre in der Musikforschung tätig. Sein Gesamtwerk ist variationsreich und schließt Orchestermusik, Kammermusik, Chormusik und Musik für traditionelle japanische Instrumente ein. Seine Blasorchesterkompositionen sind in einer dramatischen Tonsprache gehalten, die ihre Kurzbeschreibung zumeist schon im Titel offerieren. Ferner betätigt er sich als Juror bei Wettbewerben, als Gastdirigent bei zahlreichen Orchestern und als Verfasser von Artikeln in Fachzeitschriften.
Satoshi Yagisawa was born inIwate Prefecture in 1975.
He was graduated from the Department of Composition at MusashinoAcademia Musicae.
After he completed the master's course of music at the graduateschool of Musashino Academia Musicae,
he devoted himself to his studies as a research worker for twoyears.
He studied composition under Kenjiro Urata, Hitoshi Tanaka, andHidehiko Hagiwara.
He studied trumpet under Takeji Sekine and band instruction under Masato Sato.

Satoshi Yagisawa composes awide variety of music including orchestral music, chamber music,and chorus.
His compositions for band that dramatically describe the WorldHeritage Sites and nature are very popular.
Recently his compositions have been introduced and well receivedoverseas including the 12th International Conference of WorldAssociation for Symphonic Bands and Ensembles (WASBE) in Singaporein 2005. In 2003, he arranged the theme music for the 54th NationalArbor Day in Chiba Prefecture (music for planting and sowingby the Emperor and Empress of Japan).
In 2005, he arranged the music for Japan Inter High School AthleticMeet held in Chiba Prefecture.

Satoshi Yagisawa participatesin a wide variety of activities including judging for competitions,

conducting as a guest conductor, instructing, and writing forvarious music magazines.
He is one of the most vigorous young composers in Japan now.

His main works include A Tone Poem for WindOrchestra"And ThenThe Ocean Glows",
Poem for WindOrchestra "Hymn to the infinite sky",
Machu Picchu: City in the Sky - The mystery of the hidden SunTemple,
and Nazca lines - The Universe Drawn on the Earth.