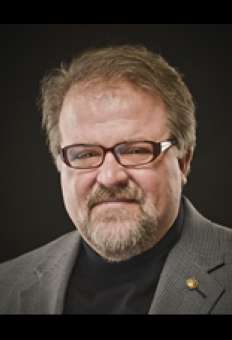 Ralph Ford
composer / arranger
Ralph Ford (b.1963) is a composer, arranger, conductor, and clinician. In addition to his twenty nine years of university teaching experience, Ralph has enjoyed a wide variety of professional experiences in the music, media, and broadcast industries. He is an exclusive composer and arranger for the Belwin division of Alfred Publishing Company in Los Angeles, California, with over 250 titles available worldwide for orchestra, concert band, jazz ensemble, and marching band. A frequently commissioned composer, his music has been premiered and performed by university, military, professional, community, and school ensembles around the world. He has received international and regional advertising awards for his jingles and 3-D animation. His work in media includes live radio broadcasts, host, voice-over for television, commercials, and video productions, conducting live musical productions, recording sessions, produced recordings for release on traditional discs and other types of new media, compose and record news music packages for national network affiliates, and producing programs for television, radio, and the internet.

His work as a professional arranger began at age fifteen as a student in Panama City, Florida. While attending Troy State University, he was appointed as Director of Jazz Ensemble I during his sophomore undergraduate year, a position he held for fifteen years. During his senior undergraduate year, he began his tenure as the staff arranger for the university band program. Upon completing his undergraduate degree in 1986, he was appointed to the music faculty as staff arranger and assistant director by his collegiate director and mentor, Dr. John Long, where he also taught courses in orchestration, arranging, theory, technology, jazz studies, and applied brass for the next fifteen years. He earned his Master of Science degree in 1988 from Troy while serving on the faculty as fulltime instructor. In 1999, he began his career as an exclusive composer/arranger from Warner Brothers Publications, a relationship that he proudly continues today with Alfred Publications. Ralph retired from Troy University in June 2011 following a ten year appointment as the Director of Bands, Coordinator of Winds and Percussion, and Professor of Music.

In addition to his usual production schedule, Ralph is also in demand as a conductor, clinician, adjudicator, and guest lecturer throughout the United States and abroad. He has received local, state, regional, and national recognition and proclamations for his artistic achievements from academic, artistic, and government organizations. With a wide variety of professional and educational experiences, he brings a unique personality to his work with colleagues and students alike. His professional affiliations include the American Society of Composers, Authors and Publishers (ASCAP), Phi Beta Mu International Bandmasters Fraternity, and holds honorary memberships in Phi Kappa Phi, Kappa Kappa Psi, Phi Beta Mu, Tau Beta Sigma, and Sigma Alpha Iota. He was selected by Rotary International to serve as a Rotary Fellow to Namibia and South Africa. In March 2009, he was elected to membership in the prestigious American Bandmasters Association. Ralph resides in Troy, Alabama with his wife, Amanda, daughters Melanie and Abby, Basset Hound Angel, Jack Russell terrier Gizmo, and the fabulous Miss Kitty.