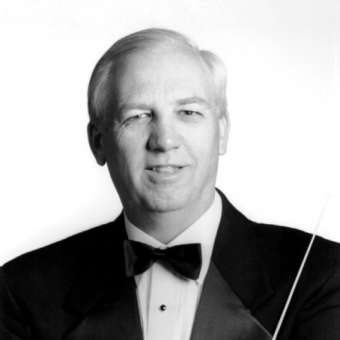 James Swearingen
composer / arranger
date of birth: 26.09.1947

James Swearingen's talents as a performer, composer/arranger and educator include a background of extensive training and experience. He has earned degrees from Bowling Green State University and The Ohio State University. In recognition of distinguished contributions, Mr. Swearingen was recently accorded the title of Professor Emeritus from Capital University located in Columbus, Ohio. Prior to his appointment at Capital in 1987, he spent eighteen years teaching instrumental music in the public schools of central Ohio. His first teaching assignment took him to the community of Sunbury, Ohio. He then spent fourteen years as Director of Instrumental Music at Grove City High School, where his marching, concert, and jazz bands all received acclaim for their high standards of performing excellence.

Mr. Swearingen currently serves as a staff arranger for the famed Ohio State University Marching Band. In addition to his arranging responsibilities, Mr. Swearingen manages to be very active as a guest conductor, adjudicator and educational clinician. Appearances have included trips throughout the United States, as well as Australia, Canada, Europe, Japan, Norway, the Republic of China and Singapore.

School directors, student performers and audiences worldwide have enthusiastically received Mr. Swearingen's numerous contributions for band. With nearly 600 published works, he has written band compositions and arrangements that reflect a variety of musical forms and styles. Many of his pieces, including 113 commissioned works, have been chosen for contest and festival lists. He is a recipient of several ASCAP awards for published compositions and in 1992 was selected as an Accomplished Graduate of the Fine and Performing Arts from Bowling Green State University. In March of 2000, he was invited to join The American Bandmasters Association, considered to be the most prestigious bandmaster organization in the world. Mr. Swearingen received the 2002 Community Music Educator Award given annually by the Columbus Symphony Orchestra. In that same year, he became conductor of the Grove City Community Winds. This highly talented ensemble consists of many fine musicians from the central Ohio area. On June 20, 2009, The American School Band Directors Association, Inc., presented Mr. Swearingen with the A. Austin Harding Award. This prestigious award is presented annually by the organization and is reflective of valuable and dedicated service to the school bands of America. In 2011, he received the Hall of Fame Award presented by the Ohio Chapter (Mu) of Phi Beta Mu. The OMEA Distinguished Service Award was presented to him at the 2014 OMEA Professional Development Conference. Later that year, he was presented the Signature Sinfonian Award by Phi Mu Alpha Sinfonia. On April 21, 2015, The Ohio State School of Music honored Mr. Swearingen with their Distinguished Alumnus Award. It should be noted that he is also a member of numerous professional and honorary organizations including NAfME, ASBDA, Phi Beta Mu and Pi Kappa Lambda.

Many of Mr. Swearingen's most popular band compositions have been recorded by the prestigious Washington Winds and are available on Walking Frog Records compact discs: His recordings include In All Its Glory, Exaltation, Celebration For Winds And Percussion, The Light Of Dawn, and the newest release, Flight of Valor.