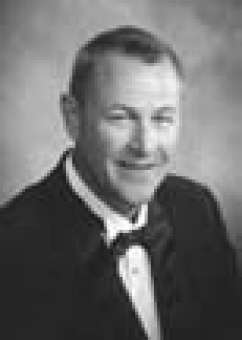 David Shaffer
composer / arranger
date of birth: 10.09.1953

David Shaffer was born in Columbus, Ohio and attended Grove City High School, Grove City, Ohio. He holds a Bachelor Degree from the Ohio State University and a Master of Music Degree from Miami University (Ohio). Mr. Shaffer has taught in the Hamilton, Ohio; Northridge, Ohio; and Wyoming, Ohio schools. Mr. Shaffer has been associated with the Miami University Marching Band for 30 years as Graduate Assistant Director (1978-80), Assistant Director (1980-97) and as Director (1997 – 2009). The Miami Band has performed for seven regional Bands of America Contests. In 2003 the Miami Band was selected as the "Santa Band" in the 77th annual Macy's Thanksgiving Day Parade in New York City.

In addition to his involvement with Miami University, Mr. Shaffer has over 400 compositions and arrangements in print. His compositions have been used at clinics and music festivals around the world and have been placed on contest required-performance lists in the United States, Canada, Europe, Australia, and Asia. Mr. Shaffer has been the recipient of the ASCAP Standard Award in Music Composition for 24 years.

Under the direction of Mr. Shaffer, the Wyoming High School String Orchestra performed as the opening group at the 1984 Mid-West National Band and Orchestra Director's Clinic in Chicago. Additional Mid-West conducting appearances were in 2000 and 2001 when Mr. Shaffer guest conducted his compositions with the Robinson School Band, Fairfax, Va., and the South Central Middle School Band, Carterville, Ga.

Currently residing in Boston, Massachusetts, Mr. Shaffer is in demand as a conductor for honor bands, new music reading clinics, music festivals, and music education seminars. During the summer of 1986 and 1992, he served as instrumental director for the Saskatchewan School of Fine Arts. In February of 1997 he conducted a program of his music, with the China Youth Corps Band in the National Concert Hall, Taipei, Taiwan. In April of 2011 Mr. Shaffer premiered his composition At The Red Creek with the Musikkapelle Roethenbach, at Roethenbach, Germany.