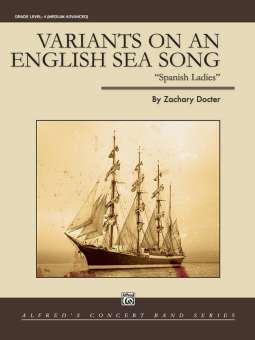 Variants On An English Sea Song
Zachary Docter
Titel / Title: Variants On An English Sea Song
Herausgeber / Publisher: Alfred Music Publications
Instrumentation: Concert Band/Harmonie
Produkttyp / Product: Partitur + Stimmen
Erscheinungsdatum / Date of Production: 2018

Alfred Concert Band
'Spanish Ladies'
These rousing variations are based on the old English sea song 'Spanish Ladies.' The piece has an English folk sound throughout. Fans of the classic band music of Vaughan Williams and Grainger will certainly enjoy this piece!
Variety

Availability *
available in 9 days


Product information
Order id: 184122
Difficulty: 4
Duration: 6:49 min
Pages: -
publisher id: 00-46672
EAN: 038081533063
---
Demos
---
Other Customers were interested in
* Information on availability is based on previous experiences. Prices and availability are subject to change without notice!