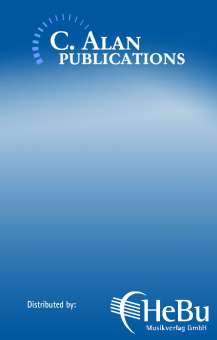 Dancing in Air
Yo Goto
Band
Number of Players:Standard
Copyright:2004
Flute 1/2
Oboe
Bassoon
Bb Clarinet 1, 2, 3
Bb Bass Clarinet
Alto Saxophone 1/2
Tenor Saxophone
Baritone Saxophone
Bb Trumpet 1, 2, 3
Horn in F 1/2
Trombone 1/2
Baritone
(Baritone T.C.)
Tuba
Timpani
Mallets 1 (bells)
Mallets 2 (chimes, vibraphone, marimba)
Percussion 1 [2 players] (snare drum, bass drum)
Percussion 2 [2 players] (wind chimes, suspended cymbal, crash cymbals, conga, shaker)
This intriguing work for intermediate level bands offers textural and stylistic interest. Transparent layers of sound open the work with an appropriately airy feel, which then gives way to a light dance section. This work has a unique sensibility that you're sure to enjoy. It's pleasing to the listener and meaty enough to keep your band's interest as well.
Availability *
available in 31 days


Product information
Order id: 184988
Difficulty: 4
Duration: 6:00 min
Pages: -
publisher id: CAP 09070
EAN: -
---
Demos
* Information on availability is based on previous experiences. Prices and availability are subject to change without notice!