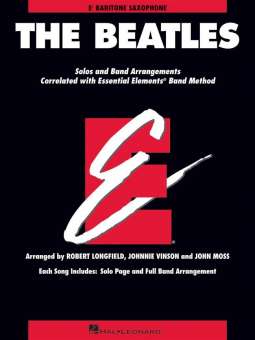 Essential Elements - The Beatles - Baritone Sax.
Vinson, Longfield Moss
Titel / Title: The Beatles
Herausgeber / Publisher: Hal Leonard
Instrumentation: Baritone Saxophone
Produkttyp / Product: Buch
Serie / Series: Essential Elements Band Folios
Sprache / Language:
Format: 12 X 9 INCH
Erscheinungsdatum / Date of Production: 2016
Untertitel / Subtitel: Baritone Saxophone
Personality:
Genre: Konzertwerk
ISMN: 9781423476276
ISBN:
EAN: 884088485047
UPC: 8,04
Ein Instrument im Klassenverband zu lernen ist in den USA seit Jahren eine bewährte Methode und findet auch in Deutschland mehr und mehr Zuspruch. Essential Elements bietet nicht nur eine grundlegende, umfassende Ausbildung für alle Blas- und Schlaginstrumente des Blasorchesters und deren Zusammenspiel, sondern verspricht auch jede Menge Spaß am gemeinsamen Lernen und Musizieren. Neben der Musiklehre, welche sinnvoll und in kleinen Schritten vermittelt wird, finden sich auch interessante Ausflüge in die Musiktheorie, -geschichte und Kultur. - Jedem Schülerheft liegt eine Vor- und Mitspiel-CD bei, die von professionellen Musikern eingespielt wurde. Zusätzlich gibt es ein Mitspiel-CD-Set, das ab etwa der Mitte des jeweiligen Schülerhefts zum Üben zu Hause verwendet werden kann. - Ideal ist dieses Werk nicht nur für das Lernen eines Instruments im Klassenverband. Es kann hervorragend in den Vor- und Anfängerorchestern der Blasorchester verwendet werden. Das im Einzel- oder Gruppenunterricht Gelernte wird mit Essential Elements wiederholt und gleichzeitig stehen jede Menge Orchesterarrangements zur Verfügung, so dass das Zusammenspiel frühzeitig geübt werden kann.

Herzlich Willkommen bei ESSENTIAL ELEMENTS THE BEATLES! Die Arrangements dieser vielseitigen Sammlung sind auf Essential Elements für BläserKlassen und Blasorchester abgestimmt und können entweder als vollwertiges Orchesterarrangement in der BläserKlasse oder als Solo zu Hause gespielt werden.


Jedes Schülerheft enthält:
• ein Orchesterarrangement für das Gesamtorchester
• eine Solo Version - jedes Instrument kann die Melodie spielen
• beide Versionen sind zur (separat erhältlichen) CD-Begleitung spielbar


Availability *
in stock | delivery time 1-2 days


Product information
Order id: 16238209
Difficulty: -
Duration: --:-- min
Pages: -
publisher id: HL 00860227
EAN: 9781423476276
---
Demos
* Information on availability is based on previous experiences. Prices and availability are subject to change without notice!