Hold My Hand / Ei hand å holde i
Trygve Hoff / Arr. Haakon Esplo
Serie / Series: K2
Norwegian artist Jørn Hoel made his breakthrough with his album «Varme ut av is» released in 1987.
The songs "Have a Dream" and "Hold My Hand" became big hits and still stand out as some of the most played songs even today. The music was written by Svein Gundersen and lyrics by Trygve Hoff on both of them.
Jørn Hoel was awarded Singer/songwriter of the year for this release.
[NO]
Den norske artisten Jørn Hoel gjorde sitt store gjennombrudd med sitt album Varme ut av is som kom i 1987.
Låtene Har en drøm og Ei hand og holde i ble store hits og står fortsatt som noen av de mest spilte sangene den dag i dag. Begge har musikk av Svein Gundersen og tekst av Trygve Hoff.
Jørn Hoel ble kåret til Årets Spellemann samme år med denne utgivelsen.

Availability *
available in 14 days


Product information
Order id: 183999
Difficulty: 2+
Duration: 2:42 min
Pages: -
publisher id: NOR 9790261714228
EAN: 9790261714228
---
Demos
---
Other Customers were interested in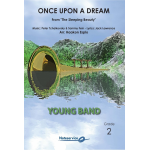 Once Upon a Dream (From "The Sleeping Beauty")
Piotr Ilich Tchaikowsky (Pyotr Peter Ilyich Iljitsch Tschaikovsky) / Arr. Haakon Esplo
* Information on availability is based on previous experiences. Prices and availability are subject to change without notice!