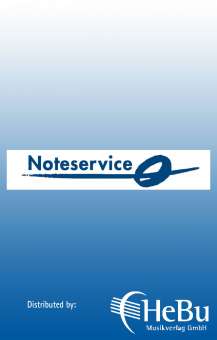 Trolldans
Traditional / Arr. Haakon Esplo
Concert Band Originals and Transcriptions&ZEICHEN(10)Trolldans (Dance of the Trolls) is a traditional Icelandic folk tune. It is used by many folk music groups and many is familiar with the choir Grex Vocalis' version recorded on the album Norwegian Moods released in 1990.
This arrangement was written in 1994 to His Majesty The Kings Guards band in Norway and was performed in concerts and recorded with Susanne Nøst as soloist.
&ZEICHEN(10)Trolldans er en tradisjonell Islandsk folketone. Den er brukt av mange folkemusikkgrupper og svært mange kjenner koret Grex Vocalis' versjon fra platen Norske Stemninger som kom ut i 1990.
Dette arrangementet ble skrevet i 1994 til Hans Majestet Kongens Gardes Musikkorps og ble framført på konserter og spilt inn med Susanne Nøst som solist.
Availability *
in stock | delivery time 1-2 days


Product information
Order id: 173344
Difficulty: 3
Duration: 2:36 min
Pages: -
publisher id: NOR 9790261710565
EAN: -
---
Demos
---
Other Customers were interested in
* Information on availability is based on previous experiences. Prices and availability are subject to change without notice!