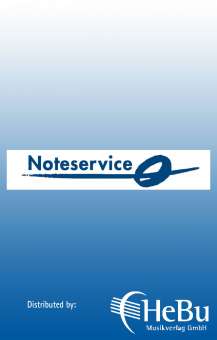 Honnør til veteranene (Honor to the Veterans)
Tormod Brufladt
BM Musikkforlag&ZEICHEN(10)The march Honour to the Veterans was the composers third composition ever. He sent this march to Kjell Martinsen, who was the conductor of The Kings Guards Band in Norway. He liked the march so much that it was included on the CD which was released in connection with the bands 150 years anniversary.
The march is not very difficult. There is a variety of melody lines in the march that differs from many other marches, especially the piccolo flute solo makes it a little bit special. The march is also playable for bands lacking a piccolo flute player, because the melody line in this part of the march is well taken care of.
&ZEICHEN(10)Honnør til Veteranene var komponistens tredje komposisjon noensinne. Den ble sendt til Kjell Martinsen, den gang dirigent for HMKG. Han likte marsjen så godt at han tok den med på innspillingen av gardemusikkens jubileums-CD i forbindelse med deres 150-årsjubileum. Marsjen er lettspilt og egner seg like godt til konsert som til bruk i gatene. Den har gode og varierte melodilinjer med en del særpreg som gjør at den skiller seg litt ut. Spesielt kan nevnes soloen for piccolo i triodelen. Denne soloen danner krydder til hovedmelodien. Korps som ikke har piccolo i sin besetning vil likevel ha utbytte av å spille denne marsjen da melodilinjen blir godt ivaretatt.
Availability *
in stock | delivery time 1-2 days


Product information
Order id: 173351
Difficulty: 3
Duration: 3:39 min
Pages: -
publisher id: NOR 9790706690872
EAN: -
---
Demos
* Information on availability is based on previous experiences. Prices and availability are subject to change without notice!