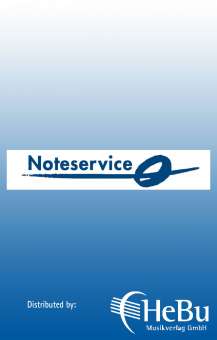 Funky MacDonald
Svein Fjermestad
Serie / Series: FLEX 5 Special Edition
Funky MacDonald is originally the second movement from a larger work called "Jæren". The piece is intended to describe the scenery at the south-western part of Norway called Jæren - all with a little humorous twist. In this fresh arrangement, we meet the cool animals and the farmers living at Jæren. In the melody, the middle parts (finally!) get a chance to shine. Together with a funky drum beat, the Old MacDonald has never been this funky!
The composer has drawn inspiration from the old nursery rhyme Old MacDonald as well as music by James Brown, Deep Purple, "Seagull" by Bad Lip Reading and also the old band classic "Arctic Funk"by Torstein Aagaard-Nilsen. A good mix for all tastes!
The piece was originally ordered by Vigrestad Skulekorps and Tertnes Skoles Musikkorps in 2018. It was later given as a gift to the school bands at Jæren by the Norwegian Band Federation on the occasion of the Year of the Banding in Norway in 2018.
[NO]Funky MacDonald er opprinnelig andre sats fra et større verk som heter "Jæren". Stykket er ment å beskrive landskapet på Jæren med et humoristisk skråblikk fra en utflyttet, jærsk komponist med hjemlengsel. Her i dette friske arrangementet beskrives alle de kule dyrene og bøndene som holder til på markene på Jæren. I melodien får mellomstemmene (endelig!) skinne og sammen med en funky trommerytme har aldri den gamle bonden MacDonald vært så kul!

Komponisten har hentet inspirasjon fra den gamle barneregla Old MacDonald, James Brown, Deep Purple, "Seagulls" av Bad Lip Reading og ikke minst den gamle korpsklassikeren "Arctic Funk" av Torstein Aagaard-Nilsen. En god blanding for enhver smak!

Stykket ble bestilt av Vigrestad Skulekorps og Tertnes Skoles Musikkorps i 2018. Det ble etterpå gitt som gave til skolekorpsene på Jæren fra NMF og Sparebankstiftelsen SR-Bank i anledning av Musikkorpsenes år.
Aufnahme / Recording:Maisha ni Zawadi - New Music for Flexible Instrumentation - Demo Tracks 2022-2023
Availability *
available in 16 days


Product information
Order id: 218362
Difficulty: 2+
Duration: 03:30:00 min
Pages: -
publisher id: NOR 9790261721103
EAN: -
---
Demos
---
Other Customers were interested in
* Information on availability is based on previous experiences. Prices and availability are subject to change without notice!