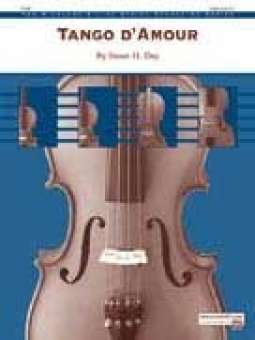 Tango d'Amour (string orchestra)
Susan H. Day
Titel / Title: Tango d'Amour
Herausgeber / Publisher: Alfred Music Publications
Instrumentation: Streichorchester
Produkttyp / Product: Partitur + Stimmen
Produkttyp / Product: Partitur + Stimmen
UPC: 38081292854
Highland String Orchestra&ZEICHEN(10)Winner of the 2006 Texas Orchestra Directors Association Composition Contest, the French title means 'Tango of Love.' From the opening three chords, this piece is set apart by its dramatic quality, intriguing harmonies, unforgettable minor melody, and genuine tango style. Written in D minor, all parts stay in first position. An appropriate choice for any concert, festival, or contest that is sure to become an ensemble favorite! (3:00) This title is available in SmartMusic.
Variety

Availability *
available in 12 days


Product information
Order id: 603296
Difficulty: 2+
Duration: 3:00 min
Pages: 62
publisher id: 00-26574
EAN: 9990091803516
---
Demos
---
Other Customers were interested in
* Information on availability is based on previous experiences. Prices and availability are subject to change without notice!