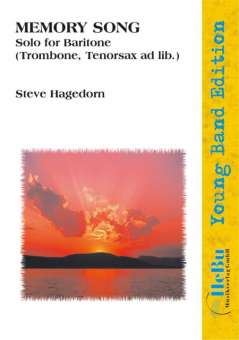 Memory Song - Solo for Baritone (Trombone or Tenorsax)
Steve Hagedorn
Besetzungsliste / Instrumentation:
Partitur
Solostimme in C (BC) (1x)
Solostimme in B (TC) (1x)
Flöte 1 in C (3x)
Flöte 2 in C (3x)
Klarinette 1 in B (4x)
Klarinette 2 in B (4x)
Klarinette 3 in B (4x)
Bass-Klarinette in B (1x)
Fagott in C (1x)
Altsax)ophon in Es (4x)
Tenorsax)ophon in B (2x)
Baritonsax)ophon in Es (1x)
Trompete/Flügelhorn 1 in B (4x)
Trompete/Flügelhorn 2 in B (4x)

Horn 1 in F/Es (2x)
Horn 2 in F/Es (2x)
Tenorhorn in B (2x)
Bariton in C/B (2x)
Posaune 1 in C/B (2x)
Posaune 2 in C/B (2x)
Tuba 1/E-Bass in C/Es (2x)
Tuba 2 in C/B (2x)
Percussion 1 (2x)
Percussion 2 (2x)
Mallets (1x)
Gitarre (1x)
Keyboard (1x)

Die Kompositionen sind ab folgender Besetzung spielbar:
Flöte 1
Klarinette 1 + 2
Trompete/Flügelhorn 1 + 2
Altsaxophon oder Horn 1 oder Klarinette 3
Tenorhorn oder Tenorsaxophon oder Horn 2 oder Bariton oder Posaune 1
Posaune 2 oder Bariton oder Tuba 1 oder Tuba 2 oder E-Bass oder Fagott oder Bassklarinette oder Baritonsaxophon
Percussion 1

Solostimmen / Solo parts available
Bariton C / Euphonium B.C.
Bariton Bb / Euphonium T.C.
Variety

Availability *
in stock | delivery time 1-2 days


Product information
Order id: 91289
Difficulty: 2+
Duration: 3:46 min
Pages: -
publisher id: HeBu 91289
EAN: 4025511912891
---
Demos
---
Other Customers were interested in
* Information on availability is based on previous experiences. Prices and availability are subject to change without notice!