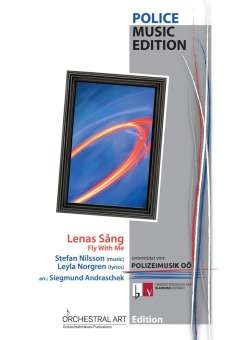 Lenas Sang (Fly with me)
Stefan Nilsson / Arr. Siegmund Andraschek
"(aus dem Film: Wie im Himmel)
für Solo Frauenstimme und Blasorchester"
Unterhaltungsliteratur, Vocal und Blasorchester, Solo und Blasorchester
Police Music Edition - unterstützt von Polizeimusik OÖ
Oberösterreichischer Blasmusikverband
Lyrics: Leyla Norgren
Variety

Availability *
available in 10 days


Product information
Order id: 179093
Difficulty: 3
Duration: 3:45 min
Pages: -
publisher id: ORCH1019-1
EAN: 4025511196680
---
Demos
Attention: By clicking one of these hyperlinks you will leave our website.
We don't assume liability or warranty on the content of websites to which our site links directly or indirectly. Visitors follow links at their own risk.
---
Other Customers were interested in
* Information on availability is based on previous experiences. Prices and availability are subject to change without notice!