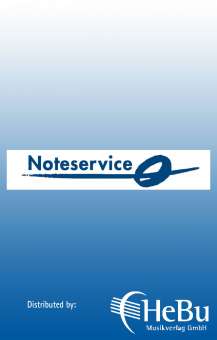 På Vakt (On Guard)
Sam Rydberg
Marching Band&ZEICHEN(10)Sam Rydberg wrote On Guard to Royal Svea Engineering Corps in 1942.
He was connected to this Corps for nearly 30 years, so it was a great honor to the composer when they made this march their own official regiment march.
On Guard is often played as a part of the changing of the Guard-parades and other ceremonies.
&ZEICHEN(10)Sam Rydberg skrev «På Vakt» til Svea ingenjörkår i 1942.
Han var tilknyttet Svea ingenjörkår i nesten 30 år, så det var en stor ære da de gjorde marsjen til sin egen regimentsmarsj, en marsj som alltid har blitt fremført hyppig i forbindelse med vaktparader og andre seremonier.
Availability *
available in 12 days


Product information
Order id: 173349
Difficulty: 3+
Duration: 3:10 min
Pages: -
publisher id: NOR 9790261710435
EAN: -
---
Demos
---
Other Customers were interested in
* Information on availability is based on previous experiences. Prices and availability are subject to change without notice!