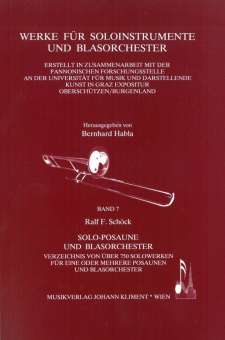 Werke für Soloinstrumente und Blasorchester #7: Solo Posaune und Blasorchester
Ralf Friedrich Schöck / Arr. Bernhard Habla
Schöck, Ralf Friedrich; et al.
Verzeichnis von über 750 Solowerken mit Notenbeispielen für eine oder mehrere Posaune(n) und Blasorchester.
Availability *
available in 5 days


Product information
Order id: 916654
Difficulty: -
Duration: --:-- min
Pages: 350
publisher id: KL 1781
EAN: 9783851390131
---
Demos
* Information on availability is based on previous experiences. Prices and availability are subject to change without notice!