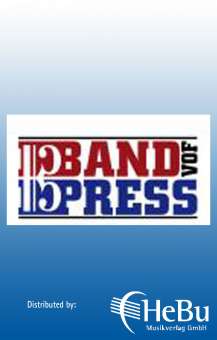 Valse Scherzo Op. 34 - Brass Band
Pjotr Iljitsch Tschaikowsky / Arr. Luc Vertommen
Tchaikovsky's Valse-Scherzo, a sprightly violin showpiece, was written to fulfil a promise made to Iosif Kotek. Exact information on the work on the Valse-Scherzo does not survive. It is only from letters from Iosif Kotek to Tchaikovsky that an approximate date for the piece might be established as early 1877. Later that same year Tchaikovsky wrote his Fourth Symphony, and the opera Eugen Onegin, and it is thought by this time the Valse had already been completed. The Valse-scherzo was performed for the first time on 21 September 1878 in the Trocadero Hall , Paris at the third Russian Concert In Paris', by the violinist S. Barcewicz, It is possible that the waltz was partly or wholly orchestrated by Kotek after Tchaikovsky completed the version for violin with piano. This of course makes it a supreme challenge for a brass player especially the moto perpetuo' section near the end. The challenge for the brass player is to capture beauty and elegance of the waltz despite the technical difficulties.
solo parts included: TC, BC, Bb BC
Availability *
in stock | delivery time 1-2 days


Product information
Order id: 916660
Difficulty: -
Duration: --:-- min
Pages: -
publisher id: SMBBBP17
EAN: 4025511357999
---
Demos
* Information on availability is based on previous experiences. Prices and availability are subject to change without notice!