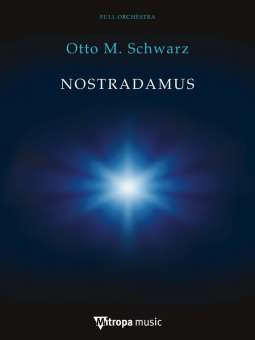 Nostradamus
Otto M. Schwarz
Titel / Title: Nostradamus
Herausgeber / Publisher: Mitropa Music
Instrumentation: Orchestra
Produkttyp / Product: Partitur + Stimmen
Sprache / Language: English-German-French-Dutch
Format: 9 X 12 INCH
Erscheinungsdatum / Date of Production: 2014
ISMN: 9790035227657
Nostradamus was one of humankind's greatest prophets. Many of his coded prophecies proved true. He lived at the time of the inquisition, and his predictions and medical therapies as a physician made him face consequences from the church. After he had been forced to flee several times and had lost his family to the plague, he devoted himself to clairvoyance. He wrote down many events in history in coded predictions. Although there is probably more than one possible way of interpretation, in our world, Nostradamus is still considered to be a unique personality. Whether he is degraded to a charlatan or turned into a myth, he surely has moved humankind with his prophecies. Otto M. Schwarz, soundtrack composer since 2001, wrote a cinematographic work about this man, who is probably the best-known prophet of the last 1000 years.
Availability *
available in 7 days


Product information
Order id: 4745
Difficulty: 4
Duration: 0:12:39 min
Pages: -
publisher id: 1969-13-080 M
EAN: 9790035227657
---
Demos
---
Other Customers were interested in
* Information on availability is based on previous experiences. Prices and availability are subject to change without notice!