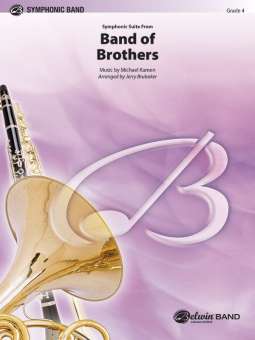 Band of Brothers (Symphonic Suite)
Michael Kamen / Arr. Jerry Brubaker
Titel / Title: Band of Brothers Symphonic Suite
Herausgeber / Publisher: Alfred Music Publications
Instrumentation: Concert Band
Produkttyp / Product: Partitur + Stimmen
ISBN: 9780757933714
UPC: 654979046387
From the HBO mini-series, Jerry Brubaker has captured the essence of Michael Kamen's score in this diverse medley. From the lovely soaring ballads to the drivingly intense splashes of sound, it's all there. Simply stunning!
Variety

Availability *
available in 9 days


Product information
Order id: 140061
Difficulty: 4
Duration: 5:16 min
Pages: -
publisher id: 00-CBM02031
EAN: 9780757933714
---
Demos
---
Other Customers were interested in
* Information on availability is based on previous experiences. Prices and availability are subject to change without notice!