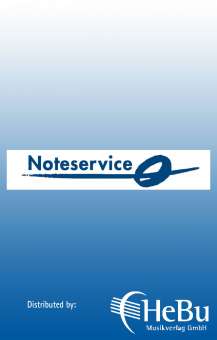 Joyful Joyful
Ludwig van Beethoven / Arr. Bjorn Morten Kjaernes
Concert Band Entertainment&ZEICHEN(10)Beethoven's everlasting melody keeps popping up in different arrangements. This one is inspired by the version made to the movie "Sister Act. Gospel at its best!
You may use this piece both in church concerts and entertainments shows.
This is a fine number to practice sixteenths syncopations. Often, most players have similar rhythm and phrasing, but with different pitches. Extended harmonies and ensemble balance are also elements to work on.
Two groups have special roles:
* If you perform the arrangement instrumental, 1st Altosax and Tenorsax are both important. The solos may be played as written or improvised. There is also an optional women's choir arrangement (SSAA) included in the set.
* The bass line is also challenging and very important. Make it groove!
&ZEICHEN(10)Beethovens evigvarende melodi fra hans niende symfoni dukker stadig i nye arrangementer Dette er inspirert av versjonen som gjøres i filmen «Sister Act» Det er også flere varianter som ligger nær denne. Gospel på sitt beste? Denne kan uansett brukes både på kirkekonserter og underholdnings konserter.
Dette er et fint stykke for å øve på sekstendels synkoper. Ofte har de fleste lik rytme og frasering, men med forskjellige tonehøyder. Det er også et fint arrangement for å jobbe med utvidet harmonikk og ensemble balanse.
To grupper har spesielle roller:
* Spilles arrangementet rent instrumentalt ligger det mye på saksofoner (duett alt og tenor). De kan spille det skrevne forslaget eller man kan improvisere. Det er også vedlagt optional SSAA damekorstemmer som kan brukes med arrangementet.
* Bass linjen er også utfordrende og meget viktig, så der må det også legges ned en del arbeid.
Availability *
available in 43 days


Product information
Order id: 173342
Difficulty: 4
Duration: 3:43 min
Pages: -
publisher id: NOR 9790261710848
EAN: 4025511246897
---
Demos
---
Other Customers were interested in
* Information on availability is based on previous experiences. Prices and availability are subject to change without notice!