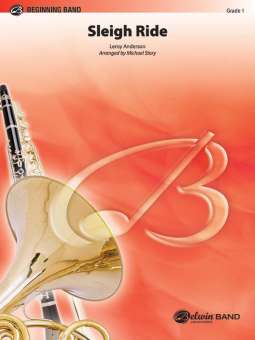 Sleigh Ride
Leroy Anderson / Arr. Michael Story
Titel / Title: Sleigh Ride
Herausgeber / Publisher: Alfred Music Publications
Instrumentation: Concert Band
Produkttyp / Product: Partitur + Stimmen
Produkttyp / Product: Partitur + Stimmen
0000000
The most-revered Leroy Anderson tune of all time is finally scored for the beginning level. All the tricky rhythms and articulations have been distilled for this level but the charming melody is in tact to greet the holiday season with renewed energy!
Variety

Availability *
available in 6 days


Product information
Order id: 149904
Difficulty: 1
Duration: 2:29 min
Pages: 132
publisher id: 00-29572
EAN: 9990091815991
---
Demos
Attention: By clicking one of these hyperlinks you will leave our website.
We don't assume liability or warranty on the content of websites to which our site links directly or indirectly. Visitors follow links at their own risk.
---
Other Customers were interested in
* Information on availability is based on previous experiences. Prices and availability are subject to change without notice!