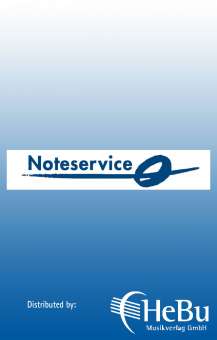 Sommernatt ved fjorden (By the Fjord)
Ketil Bjoernstad / Arr. Haakon Esplo
Concert Band Entertainment&ZEICHEN(10)By the Fjord is written by the Norwegian composer Kjetil Bjørnstad and is the most famous song from the musical work "Leve Patagonia" which was published in 1978. The work is written as a modern suite about the Oslo Bohemians Hans Jaeger and Oda Lasson sitting in a pram on the fjord a summer night. Odas sister sees the couple on the sea from her window and tells us the story.
Kjetil Bjørnstad wrote By the Fjord in his house outside Tvedestrand early spring 1978. He was initially not fully satisfied and considered disposing it. The beautiful music has luckily made the song a classic in Norwegian music.
To the conductor
This arrangement can be used with both vocal and instrumental soloist. It's always a challenge to arrange songs with many verses that tells a story if it is to be played by an instrumental soloist instead of a singer. Because of that, please cut the repeats if it's performed without lyrics.
Solo-parts included in the set: Vocal Flute Altosax Flugelhorn Euphonium - Trombone
&ZEICHEN(10)Sommernatt ved fjorden er skrevet av Kjetil Bjørnstad og er den mest kjente sangen fra musikkverket «Leve Patagonia» som ble utgitt i 1978. Verket er skrevet som en moderne suite og handler om Kristiania-bohemene Hans Jæger og Oda Lasson som sitter i en pram ute på fjorden en sommernatt. Søsteren til Oda betrakter paret ute på fjorden fra sitt vindu ved feriehuset på Hvitsten.
Kjetil Bjørnstad skrev Sommernatt ved fjorden i huset sitt utenfor Tvedestrand tidlig på våren 1978. Han var først ikke helt fornøyd og vurderte faktisk å kaste den. Den vakre musikken har heldigvis gjort sangen til en klassiker i norsk musikk.
Til dirigenten
Dette arrangementet kan brukes både med vokal- og instrumentalsolist. Det er alltid en utfordring å arrangere sanger med mange vers som forteller en historie om den skal spilles instrumentalt. Derfor kuttes repetisjoner om den ikke framføres med tekst slik at musikerne går rett i 2. hus begge ganger.
Solostemmer inkludert i settet: Vokal Fløyte Altsax Flygelhorn Euphonium - Trombone
Availability *
available in 15 days


Product information
Order id: 173343
Difficulty: 3+
Duration: 3:21 min
Pages: -
publisher id: NOR 9790261710411
EAN: -
---
Demos
---
Other Customers were interested in
* Information on availability is based on previous experiences. Prices and availability are subject to change without notice!