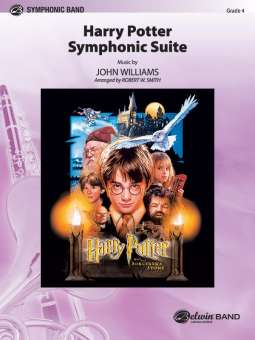 Harry Potter Symphonic Suite (Harry Potter & the Sorcerer's Stone)
John Williams / Arr. Robert W. Smith
Titel / Title: Harry Potter Symphonic Suite
Herausgeber / Publisher: Alfred Music Publications
Instrumentation: Concert Band
Produkttyp / Product: Partitur + Stimmen
Erscheinungsdatum / Date of Production: 2002
ISBN: 9780757997440
UPC: 654979031444
A marvelous comprehensive medley of the endearing themes from the box office smash HARRY POTTER has been masterfully arranged by Robert W. Smith. The vivid imagery of the film is woven into the varied textures of this symphonic band medley. Wonderful symphonic literature certain not to miss.
Variety

Availability *
available in 2 days


Product information
Order id: 138275
Difficulty: 5
Duration: 8:00 min
Pages: 472
publisher id: 00-CBM01027
EAN: 9780757997440
---
Demos
---
Other Customers were interested in
* Information on availability is based on previous experiences. Prices and availability are subject to change without notice!