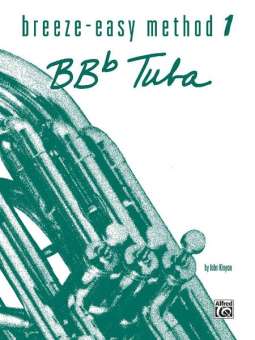 Breeze-Easy Method for BB flat Tuba, Book 1
John Kinyon
Titel / Title: Breeze-Easy Method for BB-Flat Tuba, Book I
Herausgeber / Publisher: Alfred Music Publications
Instrumentation: Tuba
Produkttyp / Product: Buch
Erscheinungsdatum / Date of Production: 1979
ISBN: 9780769225616
UPC: 29156156041
Die Breeze-Easy-Reihe umfasst Instrumentalmethoden für den Einzel- und Gruppenunterricht, die von den erfahrenen Lehrern John Kinyon und Valentine Anzalone entwickelt wurden. Sie wurde entwickelt, um bei einer möglichst großen Anzahl von Schülern in begrenzten Unterrichtssituationen die beste Musikalität zu erreichen.
Availability *
in stock | delivery time 1-2 days


Product information
Order id: 51177
Difficulty: 1
Duration: --:-- min
Pages: 32
publisher id: 00-BE0021
EAN: 9780769225616
---
Demos
---
Other Customers were interested in
* Information on availability is based on previous experiences. Prices and availability are subject to change without notice!