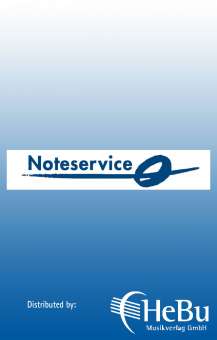 Reflections - Suite on a Norwegian Folk Tune
John Brakstad
Concert Band Originals and Transcriptions
The suite is constructed around a Norwegian folk tune. The melody is called "Dark Forebodings", and the words of the song revolve around thoughts and reflections on a future that can take unexpected, insecure, or perhaps dramatic and tragic turns. This is essentially a sad song with a beautiful melody.
The folk tune itself is presented in the 2nd movement.
In the 1st movement, the folk tune is joined with fleeting themes that indicate the unexpected; as if the music sometimes is confused as to which way to go. There are constant changes in atmosphere and feeling, from the harsh and dissonant, to the harmonious and melodic.
The 3rd movement presents a more lively variant of the folk tune, showing optimism and happiness, even though the "halting" character of the rhythm underscores the unpredictable.
The title Reflections, therefore, refers to thoughts we can have about life.
To the Conductor:
The 2nd movement has an alternative ending which is may be used if the movement is played as an independent lyrical piece in a concert.
It is advisable to begin first rehersal with the 2nd movement so that the main theme is known, before beginning on the 1st movement with its more semi-tonal parts. Intervals and intonation can provide much of the challenge in this movement.
The 3rd movement can be more technically challenging, but there is considerable leeway in the tempo marking! It is important to maintain the energy and intensity of the music through the whole movement.
&ZEICHEN(10)Reflections ble opprinnelig bestilt av NMF til Brass-NM 1990 som pliktnummer for
3. divisjon (nåværende 2. divisjon). Dette er en revidert og delvis omskrevet utgave for janitsjarkorps.
Suiten er bygget rundt en folketone fra Skjeberg. Tittelen på folketonen er Mørke anelser, og sangens tekst dreier seg om tanker og refleksjoner om en framtid som kan ta uventede og usikre, kanskje dramatiske og tragiske retninger. Det er egentlig en trist sang på en vakker melodi.
Selve folketonen presenteres i 2. sats.
I 1. sats settes folketonen sammen med flyktige temaer som viser til det uventede; som om tonene noen ganger er i villrede om veien å gå. Hele tiden skifter det mellom stemninger og følelser, fra det krasse og dissonerende til det harmoniske og melodiske.
I 3. sats kommer folketonen i en opplivet variant, for å vise optimisme og glede, selv om den haltende rytmen understreker det uforutsigbare.
Tittelen Reflections spiller dermed på tanker man gjør seg om livets gang.
Til dirigenten:
I 2. sats er det laget en alternativ avslutning som er ment å kunne brukes hvis man vil spille 2. sats som et selvstendig stykke lyrisk musikk i en konsert.
Det anbefales å begynne innøvingen med 2. sats, slik at temaet er kjent før man starter på 1. sats med de mer semi-tonale partiene. I 1. sats kan mye av utfordringen være intervaller og intonasjon.
Sats 3. kan derimot være teknisk utfordrende, men det er gitt ganske stort spillerom i forhold til tempoangivelse!
Her er det viktig å holde oppe energi og intensitet gjennom hele satsen.
Availability *
in stock | delivery time 1-2 days


Product information
Order id: 173077
Difficulty: 5
Duration: 14:00 min
Pages: -
publisher id: NOR 9790261710329
EAN: -
---
Demos
* Information on availability is based on previous experiences. Prices and availability are subject to change without notice!