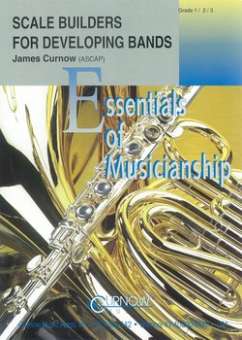 Scale Builders for Developing Bands
James Curnow
Titel / Title: Scale Builders for Developing Bands
Herausgeber / Publisher: Curnow Music Press
Instrumentation: Concert Band
Produkttyp / Product: Partitur + Stimmen
Serie / Series: Essentials of Musicianship Series
Genre: Lehrhilfsmittel
Erscheinungsdatum / Date of Production: 1998
ISMN: 97935013472
UPC: 73999157918

'Scale Builders For Developing Bands' vervollständigt die Trilogie 'Essentials Of Musicianship' und wendet sich an Orchester der sehr leichten bis leichten Leistungsstufe. Die Übungen sind darauf ausgerichtet, Tonleitern in interessanter und spannender Weise zu lernen und zu üben. 'Scale Builders' wird Ihnen dabei helfen, Ihren Schülern die Wichtigkeit von Tonleiterübungen zu vermitteln. Die 24 Übungen sind als tonleiter-basierte Mini-Kompositionen angelegt, sodass Ihre Schüler anhand von interessanter Musik lernen können.
Completing the 'Essentials Of Musicianship' trilogy is 'Scale Builders For Developing Bands,' geared to bands at the Very Easy to Medium Easy levels. Specifically designed to help you teach and review scales in an interesting and exciting manner, 'Scale Builders' will help you to reinforce the concept that it really is important for students to learn their scales! The twenty-four studies included in this set are designed as mini-compositions that are based on scales. This will give your students interesting music to play and practice.

Schwierigkeit von leicht bis mittel
Variety

Availability *
available in 6 days


Product information
Order id: 128216
Difficulty: 1 (1-3)
Duration: 10:00 min
Pages: -
publisher id: CMP 0202-98-040
EAN: 9790035013472
---
Demos
---
Other Customers were interested in
* Information on availability is based on previous experiences. Prices and availability are subject to change without notice!