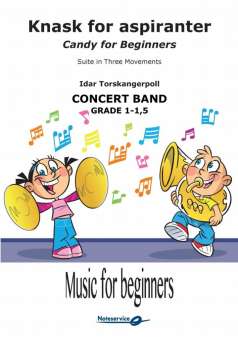 Candy for Beginners - Suite in Three Movements / Knask for aspiranter - Suite in Three Movements
Idar Torskangerpoll
Serie / Series: K2
Candy for Beginners is a suite of three songs used by the composer with the youngest beginners throughout several years.
The method is to sing the melodies before learning it on the instruments.
Lyrics about candy has proven to be very popular among the youngsters.
In English it can goes like this: Candy floss, candy floss, candy floss, candy floss, oh yeah. And: Soda for me, give me soda for free. And: Lefse, it is good, lefse, now you should, Lefse, give me one, lefse, sure is fun.
The composer urges the band to find their own lyrics to the melodies, making it their own with a local twist. This is a good rhythmic exercise for the young players
[NO]
Knask for aspiranter er sammensatt av tre låter som komponisten har brukt i opplæring av de yngste musikantene, gjerne på øret, gjennom flere år. Metoden er enkelt forklart å synge først, deretter lære melodiene på instrumentet. Gjennom sangen har noen tekster oppstått, gjerne om godteri, dette liker unge barn å synge om!
Da synges det om: Sukkerspinn, sukkerspinn, sukkerspinn, sukkerspinn oh yeah. Og: Jeg vil ha brus, vil ha superkul brus, samt: Lefse, det er godt, lefse det er flott. Lefse det er bra, lefse vil jeg ha.
Komponisten oppfordrer alle til å finne på egne tekster til melodien, gjøre de til deres egne med lokal vri. Dette er en veldig bra rytmisk øvelse for unge musikanter!

Availability *
available in 14 days


Product information
Order id: 184013
Difficulty: 1+
Duration: 4:00 min
Pages: -
publisher id: NOR 9790261713344
EAN: 9790261713344
---
Demos
---
Other Customers were interested in
* Information on availability is based on previous experiences. Prices and availability are subject to change without notice!